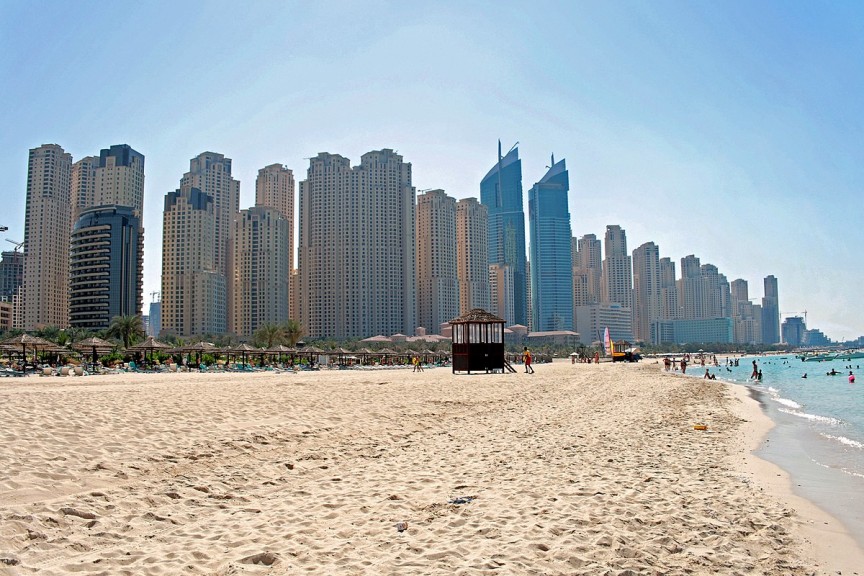 Dubai – With a one-year delay, Expo 2020 has begun in the United Arab Emirates and is expected to attract 25 million visitors from all over the world from 1 October 2021 to 31 March 2022. Under the motto "Connecting Minds, Creating the Future", the World Expo will focus on the theme of sustainability. Like 190 other countries, Germany is represented with its own pavilion to promote the performance of its own economy. Baden-Württemberg is the only region represented at the Expo for the first time.
At the heart of the World Expo is the central connecting square "Al Wasl", which links the three thematic exhibition zones - Opportunity, Mobility and Sustainability. With its location in Dubai South, on the axis between the metropolises of Dubai and Abu Dhabi and in direct proximity to the centres for air and sea freight, the exhibition venue is ideally chosen. Visitors can travel to the exhibition area by metro, a special bus shuttle service or by private transport. In keeping with the theme of ecological sustainability, 80 per cent of the Expo investment is to be preserved and used in the long term. Including the infrastructure and buildings, the usable space is to be more than doubled after the Expo and the conference and exhibition centre is to be established as a regional event venue. In this way, Expo 2020 is to be the starting point for the construction of a completely new city, where the economic sectors of logistics, tourism, construction and education will be promoted and networked.
With these ambitious plans, Dubai is once again proving to be an innovative real estate location. This is exactly where the real estate company Beyond Infinity Real Estate is active. The real estate agents based at Marina Plaza promise a competent all-round service for buying, selling and renting a wide variety of properties in the United Arab Emirates. The focus is on residential and commercial properties, for which well-founded valuations and investment analyses are prepared. In addition, they take care of the management of a wide variety of investment properties. Beyond Infinity relies on a team of employees with many years of professional experience and detailed knowledge of the local real estate market. For house and flat owners willing to sell, the residential valuation is undertaken in order to achieve the best possible sales prices.
Above all, Beyond Infinity Real Estate helps domestic and foreign companies, investors and individuals find dream properties. This is evidenced by an exclusive portfolio of exceptional rental and sale properties "We are the highest quality service provider locally, nationally and globally through dedicated real estate and financial experts backed by world-class training and market-leading analytics", write the Middle Eastern real estate brokers. "We advise on all aspects of real estate and help clients make informed, value-added decisions based on our years of experience, real estate expertise and industry knowledge." In all transactions, clients are promised "honesty, transparency, timeliness and commitment".
Beyond Infinity Real Estate offers many top properties for sale and rent in Dubai's most attractive locations. One example is the Wavez Residence in Liwan. This is an exciting township in Dubai that offers living comfort at unrivalled prices. There are 414 flats in the development, including 338 studios and 76 one-bedroom units. The more than 8,500-square-metre complex of two ten-storey buildings is easily accessible from both Sheikh Mohammed Bin Zayed Road and Al Ain Road. Recently, the real estate professionals offered a prestigious office on a lower floor of the Goldcrest Executive Tower. Goldcrest Executive is located on a Jumeirah Lake Towers site just a 25-minute drive from Dubai International Airport. Four high-speed lifts provide quick access to the offices, which are all equipped with modern networking facilities. The office offered by Beyond Infinity fascinates with a great view of the sea.
The Dubai-based group has also made a good name for itself in project and corporate financing. With its extensive market and legal knowledge, Infinity Group Participation Company provides foreign companies with access to the United Arab Emirates. According to its own statements, the group offers "strategy, marketing, organisation, operations, technology, transformation, digital, advanced analytics, corporate finance, mergers & acquisitions and sustainability in all industries and regions".
The Infinity Group has recognised that more and more companies need financing support for innovation and expansion, but can hardly rely on the classic banks. Start-ups in particular are looking for alternative sources of financing apart from bank loans. The Infinity Group also provides this needed investment capital in Africa: "The demands placed on qualified start-ups with competitive business models and experienced management teams have greatly extended the lending cycle in many African countries. And when business loans are available, the cost of capital has increased." Tailored project finance is to be offered across countries and sectors where possible. About its own range of services, it says: "From banking and insurance to asset management and securities distribution, the company's dedicated financial services teams serve all major sectors of the industry. Our work is based on more than 15 years of experience. In the financing world, loans are only given to those who can prove they don't need them. Our selection criteria are a little different: we have a launch pad strategy."
The internationally active group of companies has 22 satellite offices, 88 mediators and around 2,500 active refinancers with whom it has secured financing for almost 500 projects in various sectors. An automobile plant in China and a Vietnamese production facility for electric motorboats are just as much a part of this as an agricultural project in Ghana, a wind power plant in Russia and an oil and gas plant in China. A Philippine shopping centre, a solar power plant in Sri Lanka, a five-star hotel in India and a special hospital in Nigeria were also realised. The spectrum thus includes fossil energy sources as well as renewable energies, automobile construction as well as ecological agriculture and health care. In this way, the Infinity Group Participation Company succeeds in combining return on investment and development aid.