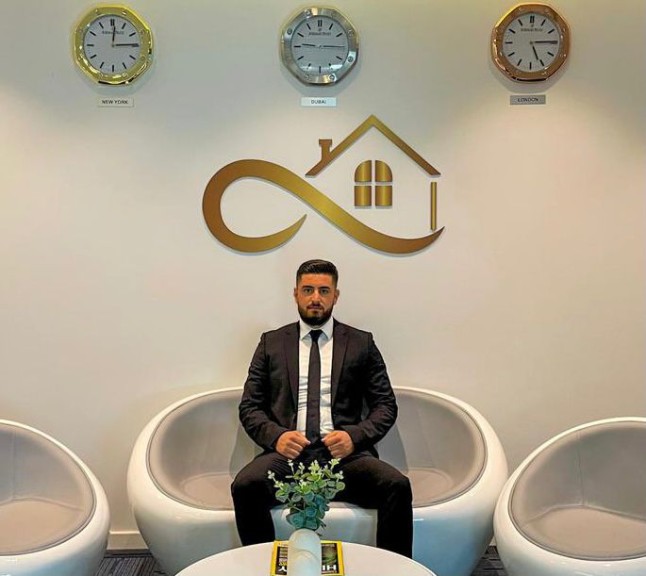 Dubai – Ferhat Doğan has a clear opinion on Dubai's real estate market as the economic center of the United Arab Emirates (UAE). The Turkish real estate entrepreneur sees great dynamism and considerable growth potential there because the tourist magnet offers a first-class residential environment. "The fast-growing sector with its infrastructure offers sustainable development opportunities. Dubai has become one of the world's leading real estate destinations", he says, emphasizing the investor-friendly climate. "Foreign investment companies are specifically supported in the country. Direct and long-term investments are encouraged, revitalizing the real estate ecosystem." The co-founder of Beyond Infinity Real Estate therefore wants to convince Turkish investors in particular to take a close look at Dubai and its exclusive residential neighborhoods such as Al Khairan, Burj Khalifa, Marsa Dubai, Al Hebiah Fifth, Jabal Ali First and Al Merkadh. "It is possible to achieve the highest rental income and effective return on investment in the medium and long term in Dubai", assures Doğan. "For example, a small apartment in Dubai can generate a good return on investment in a few years." The economically strong metropolis on the Gulf is still significantly cheaper than San Francisco, Shanghai, New York or London, despite the rise in real estate prices and the great return prospects.
To underline the attractiveness of the regional real estate sector and attract more investors, the International Property Show 2022 was recently held at the Dubai World Trade Centre. Several hundred exhibitors and over 600 international real estate investors attended the important event, whose strategic partner is the Dubai Land Department (DLD). The major event, held at the end of March, aimed to introduce new opportunities for real estate investment and important innovations in real estate services. The show marks a new chapter in the real estate sector, which is currently experiencing a huge surge in flexibility, innovation and digital transformation. And, of course, it is designed as a platform to promote real estate investment on a local and global level.
The Dubai Land Department took the opportunity to present its latest initiatives. These include, in particular, the Dubai REST app as an intelligent platform for a wide range of real estate services. It displays all real estate services provided by owners, tenants, brokers, developers, appraisers and investors. The app offers more than 100 services covering everything related to the real estate sector. This year's International Property Show saw an increase in exhibitors from around the world, showcasing their projects in Portugal, Spain, the United States, Brazil, the Caribbean and Asia. The show also saw direct sales from across the property spectrum, ranging from luxury residences in Dubai's upscale neighborhoods to affordable properties elsewhere in the UAE. This once again underscores Dubai's claim to be a unique global real estate destination.
It is not known whether Ferhat Doğan attended the fair. In any case, he will be informed about what happened at the event and who presented themselves there. The co-founder of Beyond Infinity Real Estate as well as is very familiar with the latest trends in Dubai's real estate market. The company, based at Marina Plaza in Dubai, sees itself as a full-service provider for the purchase and sale of various properties in the Gulf region. The real estate brokers intend to grow the market by offering a comprehensive range of services "delivered by our professional and energetic team of real estate sales professionals and consultants". Beyond Infinity's staff team touts its years of professional experience and promises "customized solutions for the real estate needs of all our clients". This is said to apply to the acquisition and sale of land, commercial real estate and private residential properties. "Throughout the transaction, we practice honesty, transparency, timeliness and commitment as we strive to negotiate a win-win agreement", the company states.
In addition to managing investment properties, Beyond Infinity Real Estate specializes in off-plan properties. These are properties that can be purchased at a reasonable price during the planning or construction phase and later resold at a profit. Beyond Infinity offers investors the prospect of an annual return of up to 10 percent.
According to Ferhat Doğan, Dubai has become a magnet for real estate investments of all kinds in recent years. This can be seen in the number of transactions published regularly by the Dubai Land Department. Thus, the volume of real estate and property transactions is constantly increasing. This is also observed by the Real Estate Regulatory Agency (RERA) as a government authority in Dubai. According to its data, around 79,000 real estate investments have been registered in the emirate over the past five years. In 2021, Dubai's real estate sector experienced an all-time high and the investment requirement in the UAE was reduced to $250,000.
That is why more and more Turkish investors are interested in buying land and real estate in Dubai. Doğan has a good relationship with them and promotes the advantages that foreign investors enjoy in Dubai. Speaking about the ease of buying real estate due to the relaxed visa requirements, he says: "It is very easy to live and start a business in this city. In Dubai, investors can obtain a ten-year residence permit for themselves and their families with the visa system called 'Gold Card'. Turkish investors and entrepreneurs have been flocking to the UAE and Dubai in particular in recent months because of the lucrative opportunities for real estate investment." In 2015, Ferhat Doğan settled in the city to become entrepreneurial: "We offer many specialized services in Dubai, such as financing, development, brokerage and management. With Beyond Infinity Facility Management, we also offer hotel management, real estate, economic consulting, business plans and feasibility studies."